Lorie A. Vanchena
---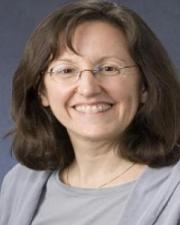 Director, Max Kade Center
Associate Professor, Department of German Studies
Contact Info
Wescoe Hall, Room 2078
Lawrence
1445 Jayhawk Blvd
Lawrence, KS 66045
---
Biography
—
Professor Vanchena joined the department in 2008 as Associate Professor of Germanic Languages and Literatures. Her monograph, Political Poetry in Periodicals and the Shaping of German National Consciousness in the Nineteenth Century (2000), demonstrates that between 1840 and 1871 German periodicals regularly featured poems as part of the public debate over contemporary political developments. In 2006 she published Anton in America: A Novel from German-American Life, the first English translation and scholarly edition of a work written in 1862 by the witty intellectual revolutionary, historian, and journalist Reinhold Solger. She has also published articles on nineteenth-century German and German-American literature.
Her current research focuses on poetry written during World War I by immigrants in the U.S. She teaches courses on contemporary German-speaking Europe, the German transatlantic experience, and German literature in the modern era. Professor Vanchena has received a Seed Grant from the Institute for Digital Research in the Humanities and the Dean's Award for Exceptional Student Mentoring. She is the recipient of grants from the American Philosophical Society and the German Academic Exchange Service (DAAD). She received the K. Barbara Schowen Undergraduate Research Mentor Award from the Center for Undergraduate Research and the J. Michael Young Academic Advisor Award from the College of Liberal Arts and Sciences.
Professor Vanchena currently serves on the Faculty Advisory Board for the Center for Undergraduate Studies, the Spencer Museum of Art Faculty Advisory Board, and the Friends of the Lied Board. She chaired the Planning Committee for the KU World War I Centennial Commemoration 2014-2018 and has served as Academic Director of the European Studies Program. She has presented numerous talks in the Lawrence community about the Max Kade Center and German immigrant history in Lawrence.