"THOMAS MANN: DEMOCRACY WILL WIN" Exhibition to be hosted at the Max Kade Center
---
The Max Kade Center for German-American Studies at the University of Kansas will host the touring exhibition "THOMAS MANN: DEMOCRACY WILL WIN" from August 14th to September 15th. This exhibition is organized by Literaturhaus München and VATMH and is realized with the generous support of the German Federal Foreign Office.
Thomas Mann (1875-1955), one of the most famous German writers of his period, was awarded the Nobel Prize in Literature in 1929 primarily in recognition for his work Buddenbrooks (1901). This exhibition zeroes in on Thomas Mann as a political thinker and his influence in America. Mann was a native of Lübeck, Germany, but fled to the United States in 1939 when his critiques of Hitler's regime made Germany unfriendly to him. Much of the exhibition focuses on the remarkable evolution of Thomas Mann's political biography: from monarchist to powerful opponent of National Socialism and committed champion of democracy.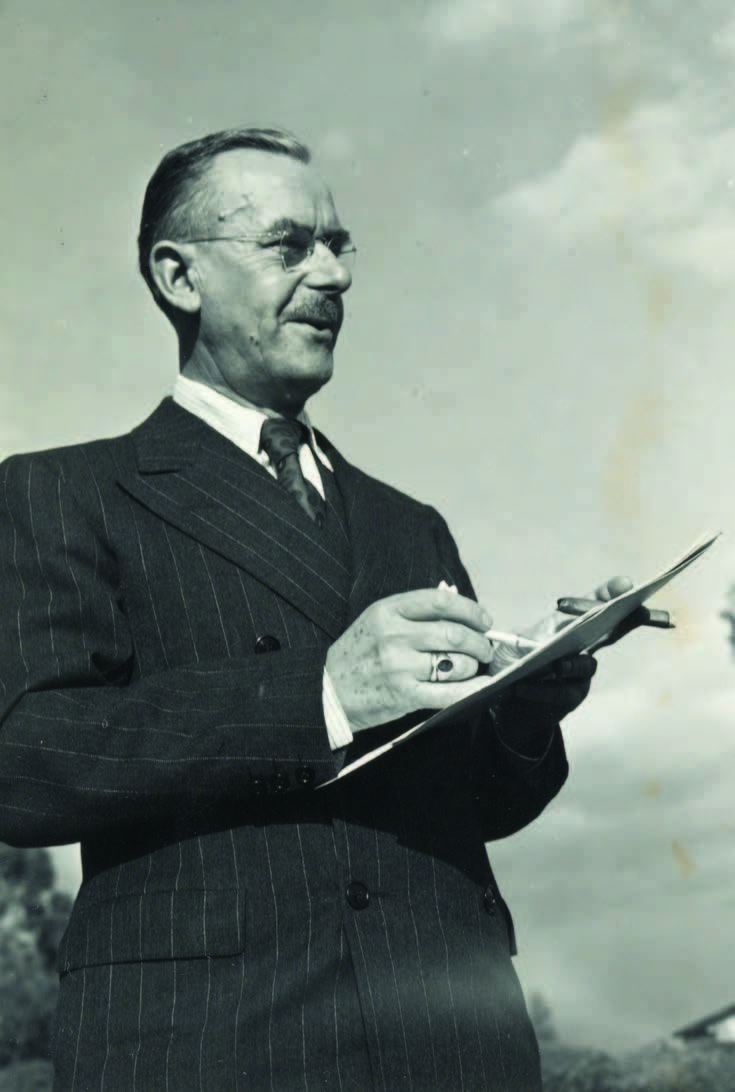 The exhibit explores the trajectory of Mann's political development in relation to the following categories: Personal Background, Zeitgeist (spirit of the age), Commitment, Taking Action, and Responsibility. Viewers are asked to interrogate their own beliefs and paths alongside those of Thomas Mann. A series of film clips connects these five topics to ongoing debates and critical moments in contemporary history such as the 2017 Charlottesville riot, the Black Lives Matter Movement, climate change mitigation, and the global refugee and immigrant crises.
"The Max Kade Center is fortunate to be able to host this traveling exhibit that highlights the importance of understanding democracy as an active endeavor, rather than a condition to be taken for granted," says Marike Janzen, associate professor of German Studies and director of the Center. "Through its focus on Thomas Mann's transatlantic and political journey, 'Democracy will Win,' echoes a central theme represented by the Max Kade Center's collection, German emigrés' commitment to democratic principles. Moreover, it shows the crucial role that artists play in keeping democracy alive."
The exhibition will be available for viewing in the Max Kade Center for German-American Studies located at 1134 W 11th St, Lawrence, KS 66044. Viewing will be available on Tuesday from 10am to 12pm, Wednesday from 3pm to 5pm, and Thursdays from 1pm to 3pm. To arrange a class or special visit, please email mkc@ku.edu. 
There will be an opening reception on Wednesday, August 23rd at 4:30pm held in Room 150 of the Joseph R. Pearson Hall, located at 1122 West Campus Road, Lawrence KS 66045. Max Kade Center Director Marike Janzen will give opening remarks followed by Brad Allen, the Executive Director of the Lawrence Public Library, who will speak on the role that public libraries and institutions play in local democracy. All are welcome to attend. "Although the exhibit channels the intellectual ideas of Thomas Mann, his questions about democracy and democratization are nationally and globally relevant during this historical moment. It is hard to look at the war in Ukraine and not see it as a battleground for democracy too," said Ani Kokobobo, Professor and Chair of KU's Department of Slavic, German, and Eurasian Studies.
The Max Kade Center for German-American Studies is part of the Department of Slavic, German, and Eurasian Studies. The Center aims to collaborate with the KU campus and community to promote the teaching and research of German-speaking peoples in the United States and beyond. The KU Max Kade Center houses significant collections of books, archives, and artworks related to German Americans, including local history of the Lawrence Turnverein.
Thomas Mann, Pacific Palisades/
AMALFI DRIVE, 1941 TMA_3026