A Molecular, Cellular, and Developmental Biology major, Abigail Eliott has served as the Max Kade Center's Undergraduate Assistant since fall 2019. She uses her knowledge of German to inventory and organize our collections. Abigail also assists with preparing grant proposals, provides important support for interns, develops children's crafts for the annual Tails and Traditions holiday program at the Watkins Museum of History, and helps with the day-to-day operations of the Center.
"Working at the MKC is such a nice change of pace from the STEM classes I take everyday, but there's still problem-solving involved.  It's so interesting to be surrounded with so much history and to find old treasures every time."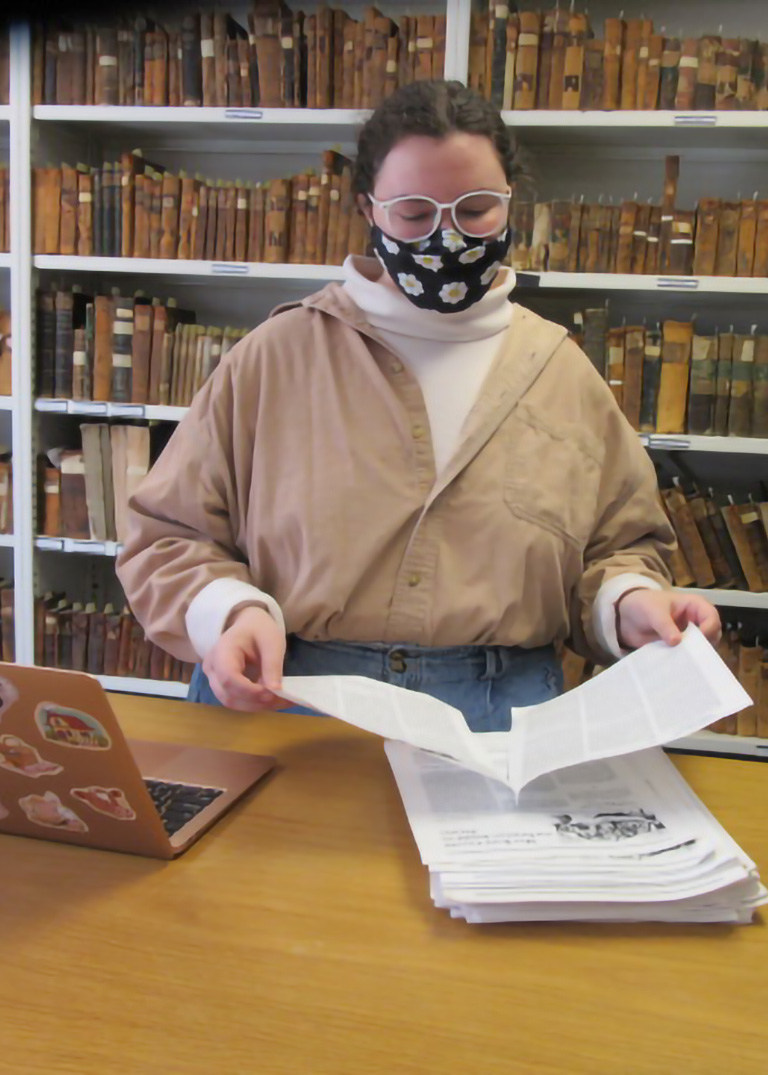 Three graduate students in KU's Museum Studies Program
have recently served as Max Kade Center interns.
Archival Collections Housing
Natalie Vondrak, Archival Collections Housing Intern, spring 2021, is inventorying and housing a collection of mid-20th century drawings and commercial art.
"As Max Kade Center Archival Housing Intern, I am developing professional skills in inventorying and project planning. I am also gaining hands-on, real-world experience with a works on paper collection. Having this opportunity as a second-year student in KU's Museum Studies Program will help open new professional opportunities for me after graduation."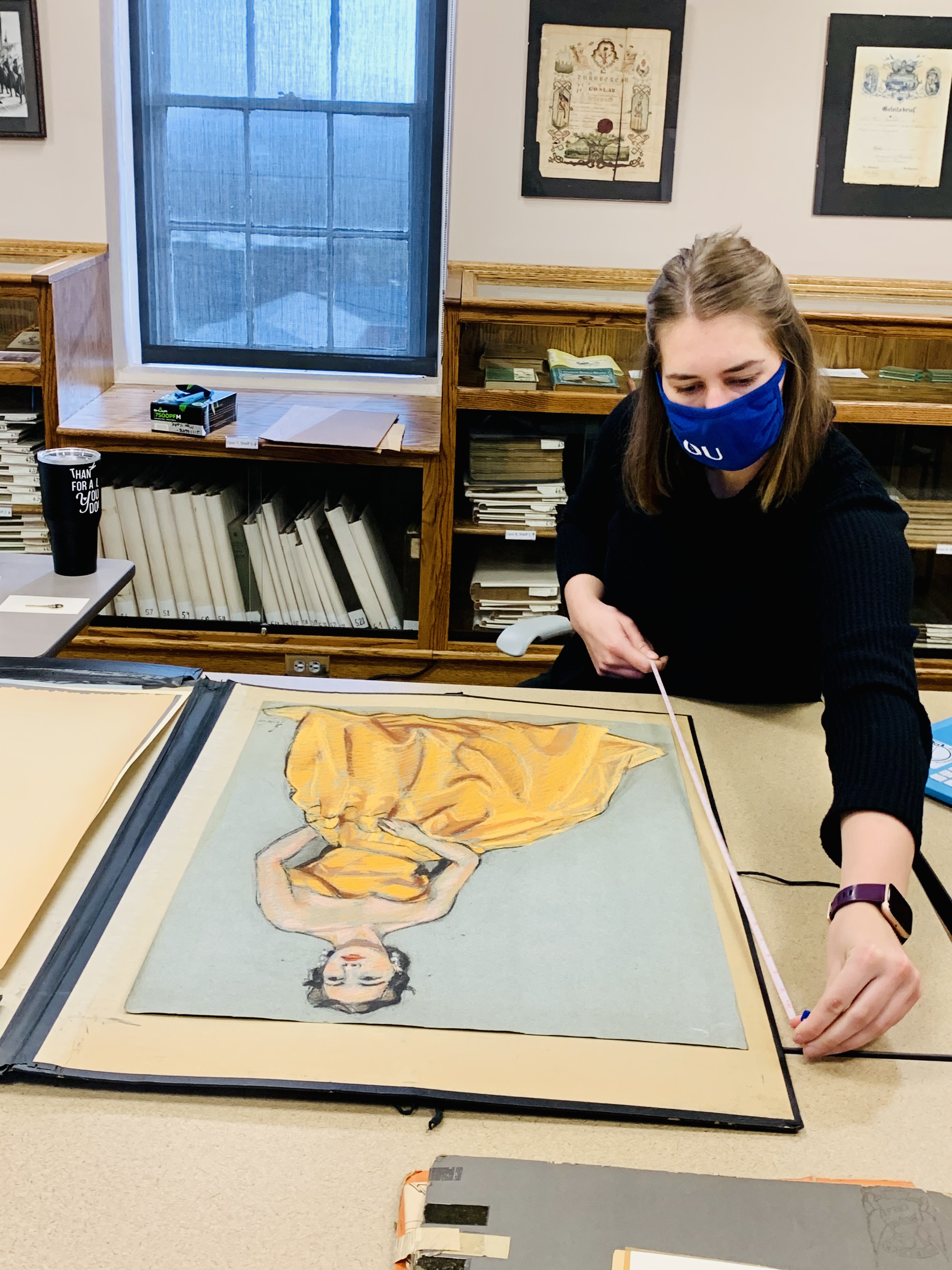 Book Preservation
Eleni Leventopoulos, Book Preservation Intern spring 2021, is vacuuming, wrapping, tying, and labeleling the 18th- and 19th-century books in the MKC's Milwaukee Turnerverein Library Collection.
"Working on the Milwaukee Turnverein books, many of which exhibit the type of leather deterioration known as red rot, has been a uniquely educational experience. I've always loved books, as a reader, as an artist and as a bookmaker, and caring for books as artifacts has been fascinating."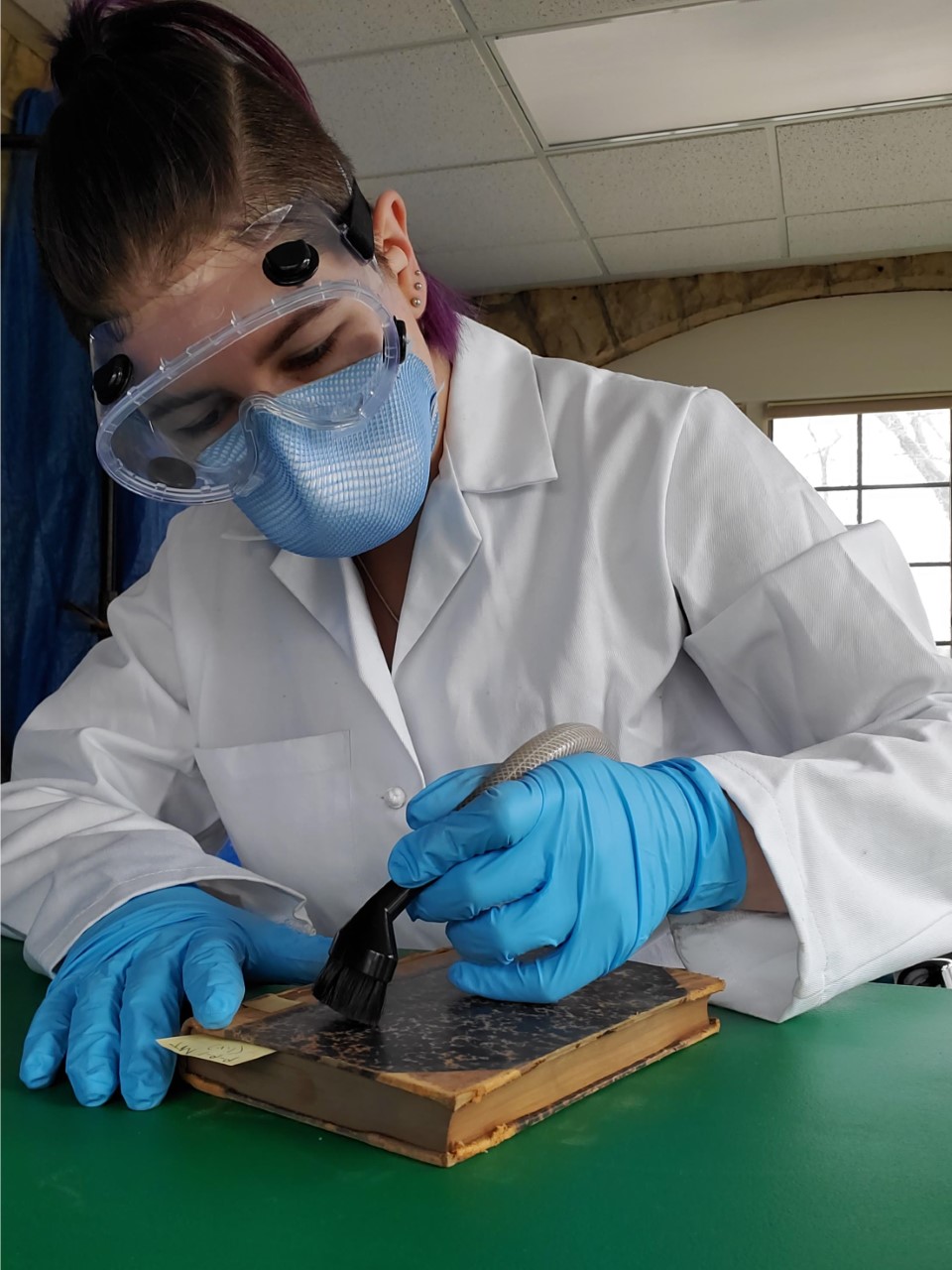 Exhibition Development & Design
Sarah Goebel (MA Museum Studies, May 2020), Max Kade Center Exhibition Development & Design intern, spring 2020. Sarah researched, developed, designed, and installed the exhibit, A Surgeon's Story: Dr. Mervin T. Sudler. The house Dr. Sudler built in 1927 is home to the Max Kade Center.
"Creating an exhibit for the Max Kade Center allowed me to apply my museum studies coursework in a professional setting. From research to installation, I gained tangible skills that prepared me to excel in future roles. Designing an exhibit in such a historic building gave me confidence to take on challenging projects in my first position after graduation."